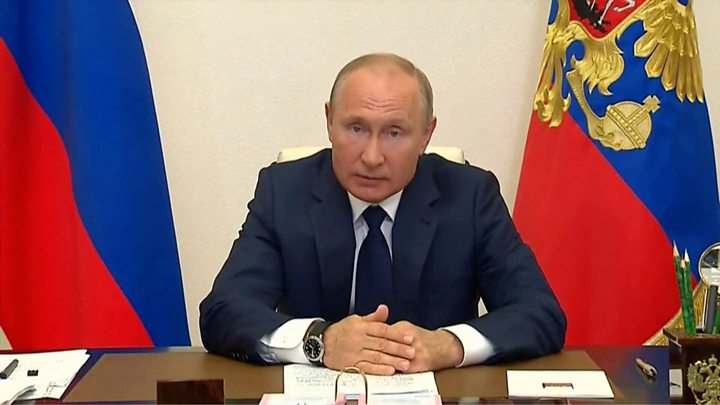 Media playback is unsupported on your device
Media captionPresident Putin said Russia's coronavirus "non-working' period" was coming to an end
It looks like Vladimir Putin has run out of patience with coronavirus.
On Monday he sent millions of workers back to factories and building sites across Russia, declaring six weeks of full lockdown over.
Regional leaders have been left to manage exactly how and when they lift the remaining restrictions, with the infection rate still stubbornly high – especially in Moscow.
But by Thursday, Mr Putin was telling his government that life was "resuming its normal, familiar rhythm" and urging them to refocus on non-coronavirus priorities.
Image copyright
Getty Images
Image caption
Many Muscovites have not yet gone back to work and wearing masks is compulsory on the metro
The message from the top is clear: Russia's president wants to move on.
Why the rush?
"I think for the first time in his active political life, Putin is faced by a problem which is absolutely not under his control and which broke all of his plans," says Chatham House political analyst Nikolai Petrov.
This spring that included a public vote on reforming the constitution, allowing Mr Putin to rule for another two terms.
Instead, the 67-year-old ended up retreating to his residence outside Moscow, after an attempt to keep up his action-man image by visiting a coronavirus-hospital in full hazmat suit became a close-scrape with infection.
Image copyright
Getty Images
Image caption
Denis Protsenko fell ill with Covid-19 a week after giving a tour to the president – here out of his hazmat suit
The doctor who showed him round later tested positive for the virus.
Tucked away in self-isolation, the hands-on president has been forced to conduct business via video conferences on a giant split screen.
At 59%, his approval rating has slid to an all-time low and his tetchiness, even boredom, during the long calls has been visible.
Image copyright
Reuters
Image caption
Mr Putin has had to get used to video conferencing
"Putin's eager to finish his plans," Nikolai Petrov argues, meaning the constitutional reform vote that is still widely advertised on state TV and giant city billboards.
"It's like he was caught mid-jump over a fence. It's not a very comfortable position."
So is Covid-19 really defeated?
The day Vladimir Putin announced a formal end to lockdown, Russia recorded its biggest spike in new coronavirus cases.
Since then, official numbers have fallen slightly each day but the total is now over 250,000, placing Russia near the very top of worldwide ratings.
Politicians here have preferred to highlight another statistic, though: a mortality rate below 1%.
"This shows that the quality of our healthcare is much better than in the USA," the Speaker of Parliament, Vyacheslav Volodin, gloated on Wednesday, when Russia had reported just 2,212 coronavirus deaths.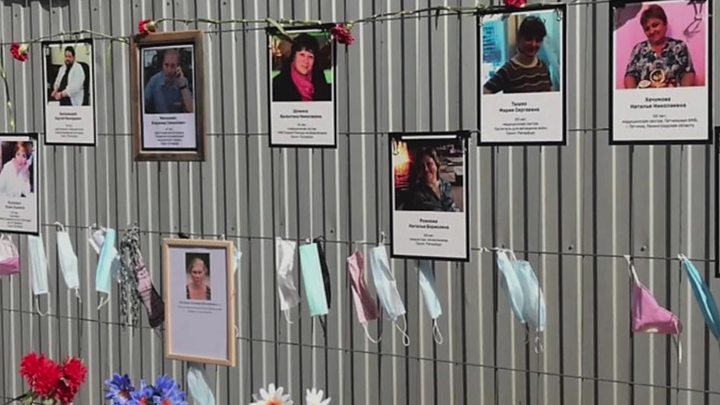 Media playback is unsupported on your device
Media captionRussian hospital staff say they are "working without masks"
"We must give thanks to our doctors and our president, who works day and night to save lives," he gushed, to a smattering of applause from MPs mostly in facemasks.
The low mortality has raised some sceptical eyebrows, but the suggestion that Russia is actively under-reporting fatalities was angrily denied by officials this week as "fake news".
However, figures for the overall death rate in Moscow in April do suggest an excess mortality of up to three times the official Covid-19 death figure, calculated against an average rate over the past five years.
Imag