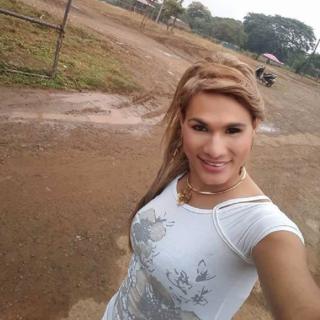 Image copyright
Monica

Lockdown in Panama is strictly enforced, with men allowed out one day and women the next. But this has been used by some as an excuse to harass members of the trans community.
Monica is an excellent cook. Like a lot of people, during the coronavirus lockdown she has been making elaborate meals to distract herself during the long hours spent inside.
One Wednesday last month, Monica fancied making some marinated chicken in a rich spicy tomato sauce with rice. She had most of the ingredients already, but needed the chicken. So she left the small detached house near Panama City airport that she shares with her extended family to go to the local corner shop.
She passed groups of women on her way, some of them linking arms with their children. It was quieter than usual in the neighbourhood, as the government had just introduced a new measure to curb the spread of coronavirus, allowing women to leave their homes to buy necessities on Monday, Wednesday and Friday, and men on Tuesday, Thursday and Saturday. On Sundays, everyone has to stay at home.
Image copyright
Monica
Monica walked into the shop. She knew the Chinese family who ran it well. They adored her. But as she entered, the atmosphere changed. The owner approached her silently, his face not breaking into the smile she was used to seeing.
"We can't serve you, Monica," he said. "The police said we can only serve women today. They said, 'No maricon.'"
The transphobic term made Monica shudder, but at the same time, it wasn't a complete surprise. The police in her neighbourhood had targeted her before for being a trans woman.
Monica started going to school dressed as a girl from the age of 12. She had never felt like a boy, and now she wanted to be open about her identity.
Coming out as a girl wouldn't have an impact on her home life – it was hard enough already.
"My father was a macho man," Monica says. "He needed no excuse to beat me, my two sisters or our mother."
Monica gradually began feminising her hair, and wearing closer-fitting clothing. At school she was mocked for her feminine appearance, so she kept to herself. At least she had the friendship of her sisters and the warmth of her mother's love.
Then, when she was 14, her father died unexpectedly and the family lost their only source of income.
Monica felt she had to support the family. She'd heard that there was an appetite in Panama City for transgender sex workers, and that the money was good.
Monica, still a child, decided that would be the best way to provide for her family.
At the corner shop, the apologetic owner explained to Monica that it was not his wish to ask her to leave at all. It had come directly from the police.
While sex work is legal in Panama, that doesn't mean it comes without stigma, and Monica says the neighbourhood police have taunted her for years, driving past on their motorbikes shouting homophobic and transphobic words as she goes out to work. At 38, she has now been putting up with this for 24 years.
"Many trans people work as sex workers here in the city," Monica says. "Is it our first option? No, but it's regular and it means I can look after my family."
Since the lockdown began, though, work has come to a halt, and