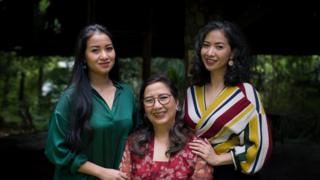 Image copyright
Ardito Kodijat
Image caption
Sita Tyasutami (L), Maria Darmaningsih (C) and Ratri Anindyajati (R) said Covid-19 has changed their lives forever
A high fever, nausea and a dreaded dry cough.
Sita Tyasutami had all the tell-tale symptoms of coronavirus. Yet, as she lay in a hospital bed in Indonesia's capital Jakarta, her condition had not been diagnosed. Nor had that of her mother, Maria Darmaningsih, who had been admitted to the same hospital.
Confined to separate hospital rooms, Tyasutami and her mother were anxiously awaiting the results of their coronavirus tests, when Indonesia's president made a startling announcement.
In a news conference broadcast to the nation, President Joko Widodo said two Indonesian nationals had tested positive for Covid-19, the first two confirmed cases in the country. The pair – a 64-year-old woman and her 31-year-old daughter – were being treated at an infectious diseases hospital in Jakarta, the president said.
The briefing, held in front of jockeying reporters outside the presidential palace, confirmed the inevitable: coronavirus had reached Indonesia.
Aired on TV screens at the hospital, the president's announcement left Tyasutami and her mother in disbelief. President Widodo was talking about two patients at their hospital, with their profiles, their ages, their symptoms, their contact history.
President Widodo did not mention the patients by name, but he did not have to.
Her brain whirring, Tyasutami asked a nurse whether the hospital was currently treating any other coronavirus patients. When the nurse said no, reality hit her like a punch to the gut.
She and her mother had been revealed as the first two known cases of coronavirus in Indonesia. "I was confused, I was angry, I was sad," Tyasutami told the BBC. "I didn't know what to do because it was all over the media."
Before her diagnosis, Tyasutami was a professional dancer, a performing arts manager, a sister, a daughter, a friend. Afterwards, her identity was reduced to a humiliating two-word label: case one. Her medical records were leaked. The details of her case were misreported. False rumours spread online.
Within a matter of hours, she became the face of Indonesia's coronavirus outbreak.
It started with an itchy throat.
Tyasutami brushed it off. It was nothing to worry about, she thought. Then, on the morning of 17 February, she woke up with symptoms that were more than just the hallmarks of a benign illness.
Her mother Darmaningsih, a professor of dance at the Jakarta Institute of Arts (JIA), fell ill later that week. Darmaningsih's condition worsened after a dance performance on 23 February, leaving her feeling "very sick".
At this point, Darmaningsih and Tyasutami went for a medical check-up at their local hospital in Depok, on the outskirts of Jakarta. Initially, the doctor diagnosed Darmaningsih with typhus – a bacterial disease spread by lice or fleas – and Tyasutami with bronchopneumonia.
"We asked to be tested for Covid-19, but our request was rejected because, at the time, the hospital didn't have the right facilities," Tyasutami said.
Image copyright
Sita Tyasutami
Image caption
Tyasutami said the first hospital she attended did not have Covid-19 testing facilities
On 27 February, they were kept in hospital, unaware of the pathogen invading their cells. It took a tip-off from a friend, 24 hours later, to set alarm bells ringing. The friend phoned Tyasutami to tell her she had attended the same dance event as a Japanese woman who had tested positive for Covid-19.
Tyasutami did not know the Japanese woman, but understood the gravity of her diagnosis.
"That's why I insisted once again to the doctor to be tested," Tyasutami said.
Doctors yielded to her request this time.