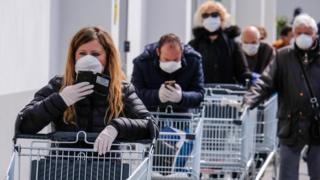 Image copyright
Getty Images
Image caption
The coronavirus crisis has taken its toll on Italy and the EU was seen as slow to react
When Covid-19 came to Europe it was Italy that was hit first – and hit hard.
Little help came from its European neighbours in those first weeks in February and March, as hospitals in the north were overwhelmed.
As Italy counts its 31,000 dead, concern is mounting over the economic impact too, and there are signs of a rise in the number of Italians losing faith in the EU.
The Treaty of Rome launched the then European Economic Community in 1957, with Italy a founding member.
"I have changed my mind a little on Europe. We are facing an absolute emergency, and seeing countries turning their backs on each other is really awkward," says Rome real estate agent Marco Tondo, 34.
He is currently receiving nine weeks' redundancy pay from the government at 80% of his normal salary.
Image copyright
Daniele Zendroni
Image caption
Marco Tondo says the crisis has altered his views on Europe
According to a survey of 1,000 Italians conducted in April by Tecné, 42% of respondents said they would leave the EU, up from 26% in November 2018.
However, a quarter of that number said they would be prepared to stay in the bloc if Europe approved concrete measures for Italy.
Italy went on full lockdown on 8 March and tight restrictions on life were only relaxed on 4 May.
Image copyright
EPA
Image caption
Italy is beginning to relax its lockdown and this Milan hairdresser is set to reopen on Monday
The country's economic output will fall by 8% this year, according to the government of Giuseppe Conte. That scale of downturn will bloat Italy's public debt this year to the tune of almost 155.7% of GDP, Italy's National Institute of Statistics forecasts.
How has Europe responded?
When the health crisis broke out, Mr Conte called for the creation of coronabonds, which would have been underwritten by all eurozone members to share the burden of economic recovery.
But within days Germany and the Netherlands had ruled out any kind of debt mutualisation. That didn't go down well in Italy. Critics said the prime minister had been humiliated in the EU.
"Asking for coronabonds was the perfect way to have the door slammed in his face," argues Carlo Altomonte, associate Professor of Economics of European Integration at Bocconi University.
"Mutualisation of debt is forbidden by EU treaties and Germany's constitution. I think Conte used it as a weapon in negotiations."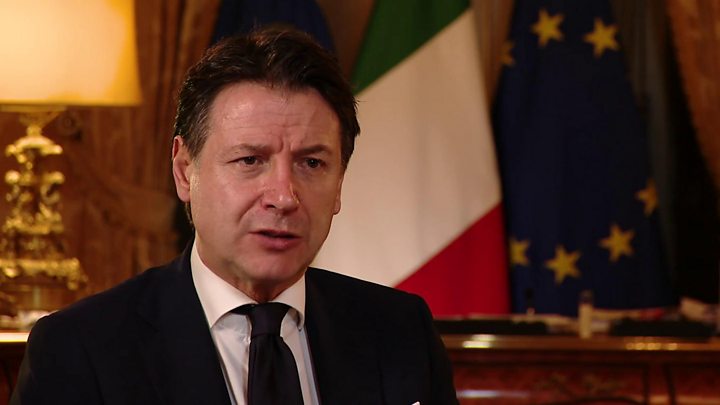 Media playback is unsupported on your device
Media captionItalian PM Giuseppe Conte told the BBC that the outbreak threatened the future of Europe
On 18 March, the European Central Bank launched a €750bn (£660bn; $800bn) bond purchase programme to help the eurozone's more indebted countries by pushing down borrowing costs.
Two days later, the European Commission announced the suspension of rules on public deficits, thus allowing countries to inject as much money as they needed into their economies.
Then, on 8 April, the Eurogroup of eurozone finance ministers agreed on a €540bn rescue plan. It was made up of:
€200bn as a new credit line for companies, provided by the European Investment Bank
€100bn in loans to support temporary unemployment schemes
€240bn as a credit line provided by the European Stability Mechanism (ESM) to fund eurozone health systems.
The political debate in Italy has focused mostly on that last part of the p