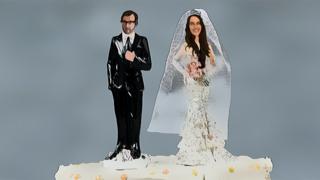 Today was supposed to be my wedding day – until Covid-19 intervened. But that won't stop me delivering my groom's speech, so make sure your glass is charged.
[Taps prosecco flute with fork] It's great to see so many of you not here today. Thank you all for not coming.
There are so many people who've helped make today not special in any way at all. I want to give a shout-out to our photographer for not taking any pictures; to our florist, for not bringing along any flowers; and to all the staff at our reception venue for boarding up the doors and windows so no-one can get in. My wife and I – oh, sorry, my fiancee and I – really can't tell you how grateful we are.
I really must pay tribute to my prospective parents-in-law. You've welcomed me into your family and treated me with every kindness. I'm so glad you're not here today to watch me marrying your daughter. I'd be terrified of exposing you to the virus and killing you.
To my own mum and dad: I owe you everything. I'm incredibly grateful that, on what's meant to be the happiest day of my life, you're hundreds of miles away in Scotland. Seriously now, stay indoors.
I'd raise a toast to the bridesmaids, but there were never going to be any. Or groomsmen for that matter. We didn't want a lot of fuss. This was going to be a low-key, laid-back, affair – a short civil ceremony then a buffet upstairs in a nearby pub. And I think, despite everything, we've stayed true to our original vision. You can't get much more low-key and laid-back than no wedding at all.
But the most important person to mention is Kathy, the woman I plan to spend the rest of my life with. Doesn't she look fantastic in her white dress? I can't tell you first-hand because I've still never seen it. I think she's hidden it somewhere in the back of her wardrobe. But of course she'll look amazing in it, because, well, it's her.
We met in the summer of 2016. At that point I was pretty disillusioned with dating. I'd grudgingly swipe through all the apps without much expectation of ever finding the right person. But when Kathy agreed to meet for a drink in a pub near Borough Market, everything changed. It wasn't just that she was even more beautiful in person than in her photos. She was funny and smart and kind and liked the same wonky indie bands that I did. Most improbably of all, she liked me too.
I spent far too long saving up for an engagement ring. I'd read you were supposed to put aside a month's salary – and even though we're only talking a month's BBC salary, that turned out to be vastly excessive. When we went to an antique jewellery fair together to choose it, the one Kathy liked most cost £80.
Now, I really should have predicted this. Kathy's hunter-gatherer instincts are deeply ingrained. She's a vintage clothes dealer who spends her weekends at car boot sales rummaging for bargains. As far as she's concerned, if you're not buying something for a knock-down price, what's the point?
I knew all this. So I could and absolutely should have proposed much earlier and then we'd have been married long before the lockdown. Sorry, Kathy.
Anyway, after we left the jewellery fair, Kathy and I went to a cocktail bar and I put the engagement ring on her finger. This was December 2019. With the spare cash left over from the ring, we calculated we could pay for a summer wedding ourselves. By the end of the month, we had a date and booked a registrar, a south London venue for the ceremony and the pub for the reception.