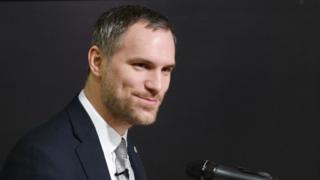 Image copyright
Getty Images
Image caption
Zdenek Hrib told the BBC Russian service he was under police protection but could not say why
The mayor of Prague has confirmed he is under police protection, days after a news report suggested he was the target of an assassination plot.
Czech newspaper Respekt alleges a Russian agent carrying the poison ricin arrived in the country three weeks ago.
Mayor Zdenek Hrib refused to say why he was under protection but said he had told police he was being followed.
Dmitry Peskov, a spokesman for Russian President Vladimir Putin, dismissed the news report as fake.
Czech law enforcement and politicians have not confirmed there was a plot. The article cites unnamed intelligence sources and has not been verified.
Speaking to BBC Russian, Mr Hrib said he could not say why he was under police protection.
He did say he had filed a report to the authorities after noticing he was being followed close to his home, and had seen the same person "multiple times", but he added that he could not confirm if the protection was related to this report.
Mr Hrib also said if he had been killed, "this would mean that Russian agencies had crossed a red line", but refused to say whether such a plot existed or was connected to Russia.
The mayor of Prague recently backed a decision to change the name of the square outside the Russian embassy to that of a murdered Russian opposition leader, Boris Nemtsov.
The Czech capital also removed the statue of Russian World War Two military hero Marshal Ivan Konev this month, angering Moscow.
Image copyright
Getty Images
Image caption
Workers removed the statue of Marshal Konev in April 2020 during the coronavirus lockdown
What does the report allege?
The extraordinary report appeared in Czech weekly investigative news magazine Respekt on Monday.
According to the publication, a Russian man travelling on a diplomatic passport arrived in the Czech capital three weeks ago, carrying a suitcase containing the deadly poison ricin.
He was then taken to the Russian embassy in a diplomatic vehicle, Respekt says, citing unnamed intelligence sources.
Ondrej Kundra, the article's author, told BBC Russian the man had been "working for one of Russia's intelligence agencies".
"Czech police got concrete information about him and he was found to be a real threat for… municipal politicians who were in recent months critical of Kremlin," he said.
The report says both Zdenek Hrib, the mayor of Prague, and Ondrej Kolar, the mayor of the Prague 6 municipality, are now under police protection.
A plot straight out of a thriller
By Rob Cameron, BBC Prague correspondent
John Le Carré does most of his writing in Cornwall, but if he's looking for inspiration perhaps he might consider a few months in Prague. When the lockdown lifts, of course.
This extraordinary story of espionage and intrigue could easily provide inspiration for his next novel. I've written the first two paragraphs for him:
A black Mercedes with Russian diplomatic plates sweeps up to the concourse of Prague Airport; a fit, muscular man carrying a briefcase jumps in. It drives off just as quickly, throwing up a small cloud of dust.
An officer of the